Festering and forgotten, Pakistan's other war burns on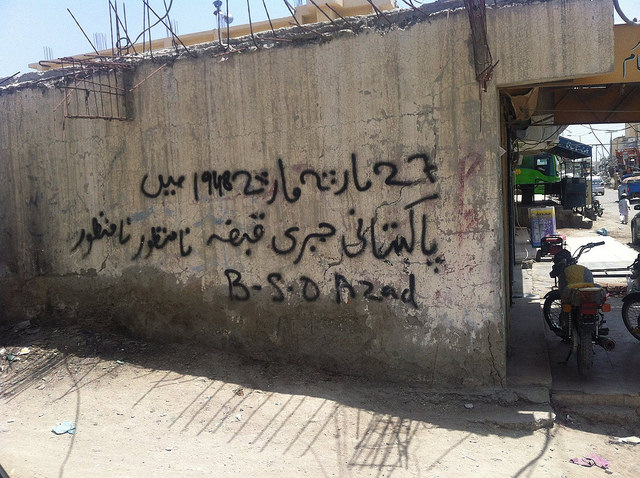 For the Christian Science Monitor:
Turbat, Balochistan: In Turbat's main square, dozens of troops from the Frontier Corps spend their day nervously scanning traffic. One soldier, his machine gun resting on the bulge in his flak jacket, visits the square's shopkeepers one by one, checking in with them.
More than 55,000 troops are deployed in Balochistan, but this is a war most Pakistanis have no idea is occurring. An eight-year old insurgency – the fifth one in the province since Pakistan's founding in 1947 ­– shows no signs of diminishing. Indeed, the insurgency appears to be growing as abuse by security forces goes unchecked. But the remote location and threats on journalists that report here mean very little information gets out.
In the evening, the soldiers jump into pickup trucks and olive-drab armored personnel carriers to race down the main road in a daily show of force.
The front of nearly every shop they pass is covered in graffiti. One popular motif – "March 28th, 1948: Balochistan's bloody day" – laments the day that federal troops were sent in to curb the first separatist uprising here. Another reads, "We won't accept Pakistan's occupation of Balochistan."
Continue reading here.