The return of Pakistan's Baloch tribesmen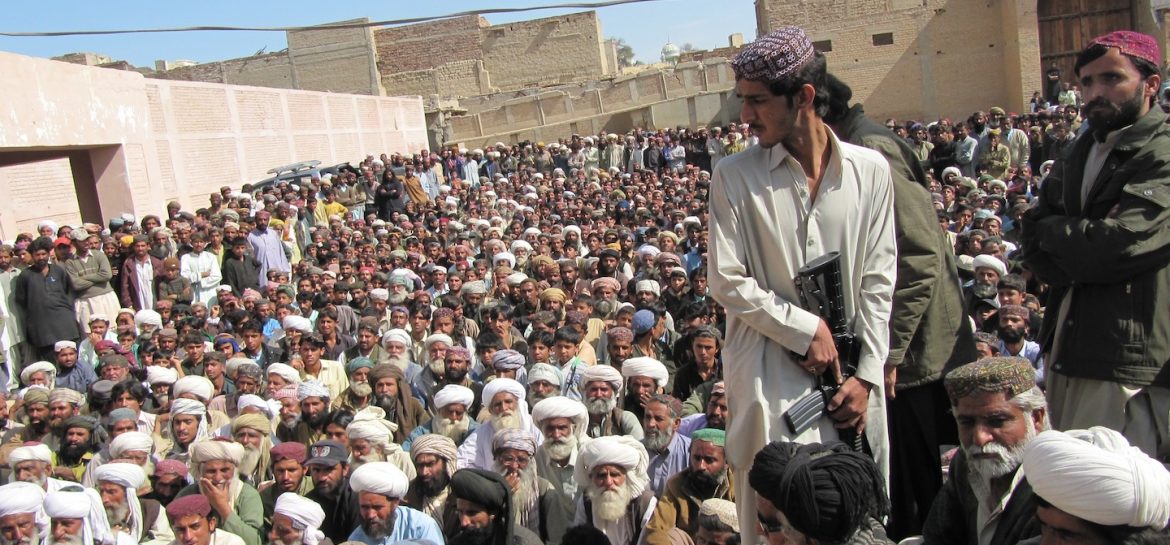 For Al Jazeera English:
A new generation of Balochi nationalists has emerged, eight years after the death of the movement's leader.
Dera Bugti, Pakistan – Nearly eight years after Balochi leader Nawab Akbar Bugti was killed in fighting with the Pakistani military, a new generation of Balochi nationalists is emerging in his place in Pakistan's restive western province.
Two of Bugti's grandsons have led the return of thousands of tribesmen from a decade-long exile, while a third heads a separatist armed group that carries out frequent attacks throughout the province.
On February 9, the Baloch Republican Army (BRA), a group founded by Bugti's grandson, Bramdagh Khan, claimed responsibility for a sophisticated attack on gas pipelines in the city of Dera Bugti.
It wasn't the first such attack by the group, but it has been the most spectacular: Three crucial pipelines were simultaneously blown up, cutting gas supplies to Pakistan's Punjab province for at least three days.
The same night, Pakistani security officials say they killed six BRA fighters who had attacked the home of two commanders of a pro-government militia. The BRA fighters had allegedly killed three women and three children along with the commanders.
"It's been a continuous struggle," said Manzoor Ahmed, a spokesman for Pakistan's paramilitary Frontier Corps (FC), which is tasked with protecting the gas pipelines in Dera Bugti. "There are minor attacks on a daily basis … and maybe three or four major attacks every week."
More than 47,000 troops are deployed in Balochistan, and Balochi insurgents have killed more than 360 of them since 2007.
Hundreds of deaths
The BRA is one of several armed Balochi separatist groups operating in the province. According to the Pakistan Institute for Peace Studies, the groups were responsible for the deaths of nearly 375 people in 2013. In 2012, they are understood to have killed 131 security personnel and 247 civilians. Rights groups say Pakistani security forces have responded by carrying out extra-judicial executions and detaining hundreds of Balochis without charge.
The current insurgency – the fifth to emerge from Balochistan since 1948 – was launched in 2005 by Nawab Akbar Bugti, a former governor and chief minister of the province. Bugti demanded Pakistan's federal government give the province a greater share of revenues from its mineral resources, and remove troops who were stationed in the region to protect federal interests.
Like the BRA fighters today, Bugti's tribesmen blew up gas pipelines and killed security personnel and non-Balochis they referred to as "settlers". Sympathetic tribes in neighbouring districts soon joined the fray.
Pakistan's military ruler Pervez Musharraf accused Bugti of trying to run a parallel state and diverting revenue from the gas fields meant for Balochistan's development.
"He won't know what hit him," Musharraf vowed on national television, deploying helicopter gunships, fighter jets, and thousands of troops against the 79-year-old Bugti, who was finally killed when a cave he was hiding in collapsed under shelling in 2006. Last June, a court in Balochistan indicted Musharraf for the murder of Bugti.
Trying to go home
The attacks by the BRA come as two of Bugti's other grandsons – Shazain Bugti and Gohram Bugti – lead the return of the first batch of 178,000 tribesmen who were forced out of the region by fighting with the Pakistani military that began in 2005. Security forces barred the tribesmen from returning, citing concerns that they might join armed groups.
The exiled tribesmen were never recognised as internally displaced people by the Pakistani government. President Musharraf instituted a policy barring aid groups from the region after they highlighted the extent of the crisis.
Shazain and Gohram Bugti strike a more conciliatory tone than their half-brother, Bramdagh Khan, promising to weed out separatist fighters within their ranks and chart a democratic path. Instead of an armed struggle, the pair has relied on the courts, protests, and political pressure to fulfil their demands.
Last year, soon after elections ushered in a new provincial and federal government openly sympathetic to the Balochi cause, Shazain Bugti led a protest by hundreds of exiled tribesmen in Islamabad asking that they be allowed to go home to Dera Bugti. Authorities agreed to allow them to return, even promising to provide them food, shelter, and transportation.
On January 17, the date they were to return, 18,000 tribesmen were told by security forces they could not proceed. So Shazain Bugti and the tribesmen began a sit-in, blocking a major highway and asking the Balochistan High Court to intervene. On January 29, the court ruled that they should be allowed through, but by then only around 3,000 tribesmen were left. The rest had dispersed, dismayed by the delay.
'We left everything behind'
Shahzain Bugti said all the tribesmen would eventually be brought back, based on the court's decision, which effectively denied security forces the power to keep locals out. "The court decided that the tribesmen are Pakistanis, and as Pakistanis they have a right to go back home, to move around freely."
Abdul Aziz is one of the tribesmen who made it home.
Aziz, a 50-year-old farmer, fled on foot along with 35 of his relatives when rockets began crashing near their home.
"We left everything behind in a hurry," he said. They made their way to neighbouring Punjab province, where Aziz has worked as a labourer for the past nine years.
"We never received any aid. We worked with our own hands, built our own shelter. We are just poor people. We hope things will get better now that the chief is back," he said, referring to Shazain Bugti, who has replaced his grandfather as the de facto head of the region's Bugti tribe.
But the exiled Balochis are returning to a Dera Bugti that is as devastated as it was when they left. Almost nine years after the fighting erupted on March 17, 2005, entire blocks of homes remain piles of rubble. Shelling by Pakistani forces that day killed at least 43 civilians – including 19 minors and three women from the town's Hindu community who had taken shelter in a temple – triggering a frantic exodus of civilians.
Ashok Kumar, who now looks after the temple, said there had been no warning given to locals: "We heard firing, so we ran out of our homes and gathered at the temple, thinking it would be safe here."
Mortar shells came crashing down on them through the roof. It was three days before someone mustered the courage to return to collect the bodies. "A head was here, a leg there," he explained, walking through a narrow covered alley in front of the temple. "It was hard to recognise them."
Neglected development
Gohram Bugti, the US-educated brother of Shahzain, said federal authorities had failed to deliver on promises to develop Dera Bugti, despite retaining complete control over the region for nearly a decade.
A military canton and a cadet college have sprung up near gas fields, protected by thousands of pro-government militiamen and FC troops.
The fields account for 25 percent of national gas usage, and Balochistan receives 12.5 percent of profits – around $70m annually – in royalties. But little of it seems to be spent in Dera Bugti, which consistently ranks as the poorest, least developed district in Pakistan. According to a 2011 government survey, only 15 percent of residents had ever attended school, nine percent of homes had electricity, and four percent had piped water. Eight-four percent of homes used charcoal for cooking – despite the fact that the district contains Pakistan's largest gas reserves.
"The people using this gas, in Punjab, in Sindh, they are our brothers," said Gohram Bugti. "They should realize that [at] the place this comes from, people don't even have gas themselves".
Given the lack of change from 2005, Shazain Bugti wonders whether the central government has learned any lessons from the insurgency.
"Even in his last days, Nawab Akbar Bugti didn't say he wanted to split from Pakistan. He said he wanted to secure the rights of [the] Baloch by remaining in this country," he said. "This massive fight started in Dera Bugti and spread all over Balochistan. Now the government has to do some good here, for good all over Balochistan."