Pakistan's Islamic seminaries pair science with the Quran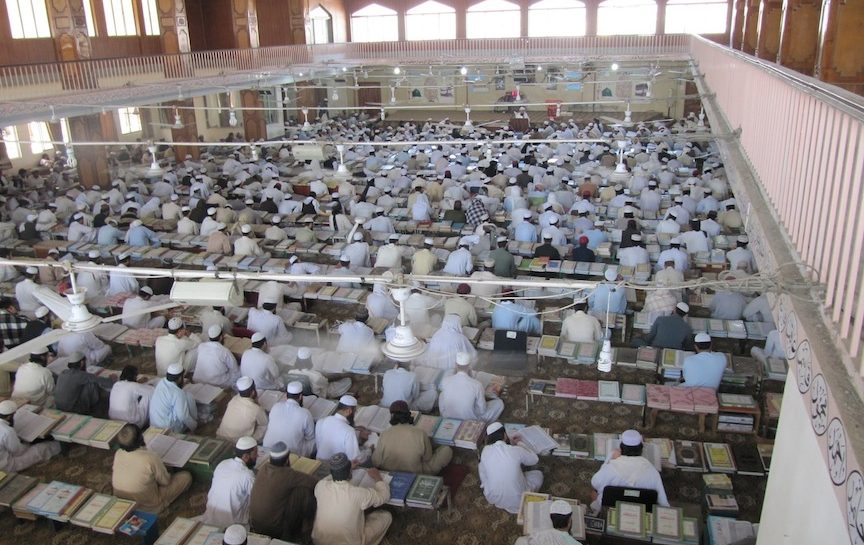 For the Christian Science Monitor:
Anwarul Haq, a frail, bespectacled cleric, sits before a class of attentive students in Darul Uloom Haqqania, one of Pakistan's many madrassas, or Islamic seminaries. His class of 1,400 students is the most senior of 4,000 enrollees at Darul Uloom, an hour's drive from Peshawar.
The students follow a 500-year-old curriculum adopted across South Asia. The oversized book used in Mr. Haq's class, a collection of ahadith, or sayings attributed to the prophet Muhammad, is centuries old and written in Arabic. Commentary written in Urdu in present-day India fills the margins.
"This country was built on Islam, the idea of following God's teachings. Here we are learning how to do that," says Haq.
What students learn, and don't learn, in thousands of such private seminaries is a matter of concern for Pakistan's government. Under a national security policy unveiled last month, Pakistan aims to bring madrassas under tighter state control, update their curricula to tone down extremist views, and introduce subjects like mathematics and science. The goal is to turn out graduates capable of getting decent jobs who won't be tempted to join the Taliban or other militant groups.
Continue reading here.